New PicoSource Pulse Generators!
The new PicoSource PG900 Series differential pulse generators can stimulate a transmission path, device or network with a broad-spectrum signal in a single instant. These signals are invaluable for making high-speed broadband measurements in many fields such as time-domain reflectometry, semiconductor testing, gigabit interconnect and port testing, and in radar systems.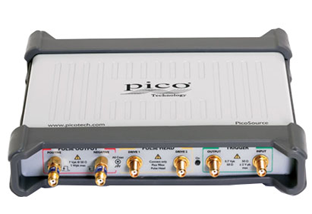 Despite the dominance of high-speed differential data in today's digital, computing, interconnect and telecommunications systems, it was hard to find cost-effective, fast-transition differential pulse generators… until now!
Highlights of the new PicoSource PG900 Series differential pulse generators:
60 ps edge step recovery diode outputs, amplitude adjustable up to 6 V (PG911)
40 ps edge tunnel diode outputs, fixed > 200 mV amplitude (PG912)
Dual-technology model (PG914) with both types of output
Differential outputs with programmable deskew in 1 ps steps
Signal characteristics specified in detail USB-connected
Graphical control software (for Microsoft Windows) included