Eltesta launched two new single-channel 5 GHz and 16 GHz miniature wide-bandwidth oscilloscopes FemtoScope 1051 and FemtoScope 1161
New 5 GHz FemtoScope 1051 and 16 GHz FemtoScope 1161
More recently, if you needed an oscilloscope with a bandwidth of more than 5 GHz, you had to accept the need for significant financial costs. The FemtoScope 1000 models set a new price/performance ratio standard for gigahertz frequency USB oscilloscopes.
These single-channel instruments, having a bandwidth of 5 or 16 GHz and triggering over the entire frequency range, provide the acquisition, display, measurement and analysis of complex waveforms in the range from picoseconds to hundreds of seconds.
These oscilloscopes are designed for engineers working in production workshops, in universities and who, above all, need characteristics associated with flexible measurements of wide-bandwidth signals with low cost.
Being a direct alternative to traditional benchtop oscilloscopes, these instruments are miniature, and, what is extremely important, they have an incomparably lower cost. Economical prices make the FemtoScope 1000 Series preferred for teaching basic scientific and engineering measurements at lab stations in schools and universities. Features normally only found on much higher priced scopes equip the FemtoScope 1000 Series to be a powerful choice for R&D applications.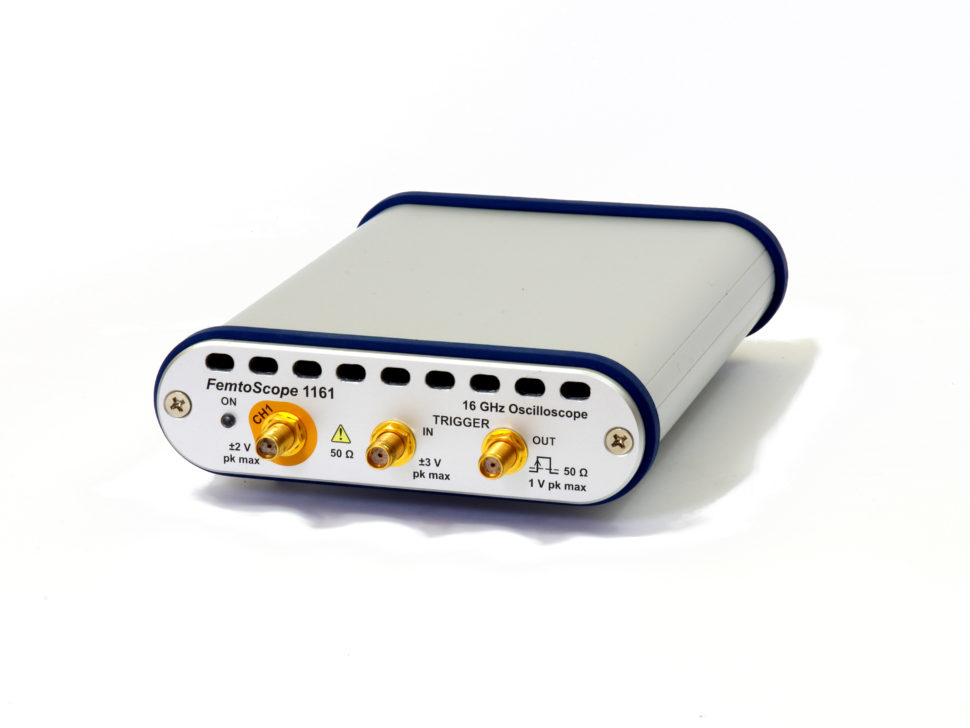 Key specifications:
1 channels configuration.
The industry's widest 5 or 16 GHz USB oscilloscope bandwidths available to match your measurement application,
The industry's lowest 1.5 ps rms typical intrinsic jitter for USB oscilloscope.
12-bit Analog-to-Digital Converter with 500 MSa/s real time sampling rate per channel.
The industry's highest equivalent time sampling rate up to 5 TSA/s for USB oscilloscope.
10 ps/div fastest time base scale.
Up to 6 GHz trigger bandwidth enables capture and analysis wide-bandwidth complex signals.
Powerful SW and flexible, simple and intuitive user interface with built-in OnLine Help and demo training signals.
Color graded display, automatic measurements, eye diagrams, mask test, histograms, waveform mathematics, 7-digit built-in frequency counter, spectrum analysis with FFT, autoscale, store waveforms and setups.
Power consumption less than 15 W.
Weight less than 370 grams.
Footprint less than 1.9 sq.dm.
Economical price.