Eltesta is elected the best 2014 Lithuanian company in category "Innovative solutions leader"
Ketvirtadienį, 2014.11.22 per Ūkio ministerijos organizuojamą "Verslo dieną" geriausiems šalies verslininkams įteikti apdovanojimai "Už nuopelnus verslui". Renginį atidarė Ministras Pirmininkas Algirdas Butkevičius, dalyvavo ir ūkio ministras Evaldas Gustas. Iš gautų paraiškų Ūkio ministerijos sudaryta komisija atrinko po tris geriausias įmones kiekvienoje iš devinių nominacijų. Dalį balsų lemė ir visuomenės nuomonė, skaitytojai galėjo balsuoti portale DELFI. Geriausia kategorijoje "Inovatyvių sprendimų lyderis" išrinkta "Eltesta". Vilniuje įsikūrusi bendrovė yra pasaulyje pripažinta matavimo prietaisų, skaitmeninių ir stoboskopinių oscilografų, picosekundinių generatorių, požeminių radarų ir nemetalinių minų ieškiklių gamintoja.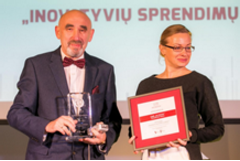 On Thursday, 2014.11.22 through the "Business Day" organized by Ministry of Economy the best of businessmens of the country were awarded "For merits in business". The event was opened by Prime Minister Algirdas Butkevitcius and the Minister of Economy Evaldas Gustas. From the applications received, the commission established by the Ministry of Economy has selected three best companies in each of nine nominations. Readers also could vote through portal DELFI. The best company in category "Innovative solutions leader" was elected "Eltesta." Vilnius-based company is well-known as a manufacturer of T&M electronic instruments such as sampling an digital storage oscilloscopes, picosecond pulse generators, underground radars and non-metallic mine detectors.